Deskera ERP Software
There are a lot of processes needed to run within a business from backend to frontend. The common pain points that small and medium businesses offend to have to face are doing Accounting to tracking inventory, managing employees, and vendors. Deskera is here with an ERP Software solution that will resolve the necessary yet troublesome processes and make it manageable. Let's learn what DESK has to provide. To Check out for plan and pricing, please click here
Monitor And Tracking Your Sales Process
With our intuitive and smooth interface, starting with your quotation and ending with your payment is fuss-free as you no longer have to remember complicated entries.
Selling
Closing Quotes And Invoices With A Hitch
Regardless of currency, easily create and customize invoices and payment reminders. Need a system to suit every payment term? Look no further with our customisable invoices which are easy to create. Along with in-built tax rates and discount calculations, errors will be minimised.
Automate Sales And Billing Processes
With the cloud solution, you are able to convert quotes into invoices, and invoices into e-invoices without a hassle. Information will be almost seamless for your customers!
Secure Your Business
Since files do not need to be sent via email, documents sent over the platform are more secure as it prohibits unauthorised access and amendments. You may also segregate roles to various users and limit user's personal access where necessary.
Secure Faster Payment With E-invoicing
Begin e-invoicing for free by connecting to the PEPPOL network via Deskera. This means you get to improve your business' cash flow since you enjoy quicker payment cycles and seamless transactions with other linked companies.
(Currently only applicable to businesses in Singapore at this juncture.)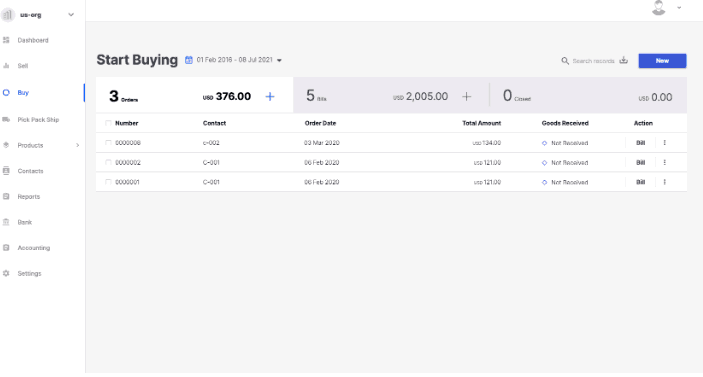 Updated Financial Reports At An Instant
Get Organised And Updated
Create, view and manage all the financial data you need such as your Balance Sheet, Profit & Loss, Chart of Accounts, Journal Entry, Opening Balances, Debit Notes, Credit Notes, Expenses and Deposits.
Charging And Collecting GST
With Deskera DESK, you can set your cost price and selling price to be GST inclusive or exclusive. Output tax is to be charged on top of the selling price of your supplies and must be paid to the Inland Revenue Authority of Singapore (IRAS). Input tax, on the other hand, is incurred on your company's business purchases and expenses, including imported goods, which are then paid to your suppliers.
Filing Your GST
You can utilise the GST Report function to review your GST transactions prior to filing your GST. Additionally, the GST Form 5 generated by DESK enables you to make the periodic filing of GST easier.
.
Categorisation Of Report
With DESK, you can view at a glance, 5 categories of reports, and 17 starter reports. The business side of things enables you to get reports on Inventory, Tax, Purchase, Sales, and contacts while the financial section gives you the breakdown on Profit and Loss, Balance Sheet, Cash Flow statements, General Ledger, Trial Balance and Statement of Accounts.
.
Making Informative Business Decisions
DESK offers real-time data reporting that suits your individual business need, from Financial Statements to Inventory and Tax Reports.
.
Contact Us
for Deskera Service
Inventory Tracking
Types Of Products Or Services
Two types of products can be added to DESK. This includes tangible and physical items that have a quantifiable amount. Those which can be tracked, include clothes, devices, accessories and others which are also known as Tracked products.
Where Non-Tracked products are concerned, these include intangible items such as alteration, cleaning or set-up services. This usually involves an individual or a team providing a paid service to the customer. There is no inventory to be managed in this category.
Limitless Addition Of Products
When it comes to the online inventory, there is an inexhaustible list of products and services which you can add. Simply Import, Export, Add new products. You can even toggle between those in which you want to keep active and inactive.
Customisable Fields
Do more with product descriptions that can be uniquely created to fit the fields and criteria you require. Feel free to explore by adding barcodes to products, images, and product descriptions. Importing products is an easy 3-step process. Get files, match headers, and get them added to the system instantaneously!
Desker's Pick, Pack And Ship Functionality
Any business that has inventory in a warehouse would likely be familiar with the concept that items have to be arranged in aisles and racks. The order fulfilment process then consists of picking the product from one place, packaging it in an area, and then subsequently shipping it to the customers.
Pick, Pack, and Ship (PPS) is the process of efficient order management. There is an assortment of ways in which PPS can be carried out but essentially once you receive an order, it would be naturally followed by locating, packing, and shipping, either directly or through a service.
What would be detrimental to the above process and hinder your business efficiency is not having an efficient warehouse management technique and software. Intricately tied to your Order Management, PPS thus becomes your ideal, reliable, and mandatory companion to track and deliver orders to your customers.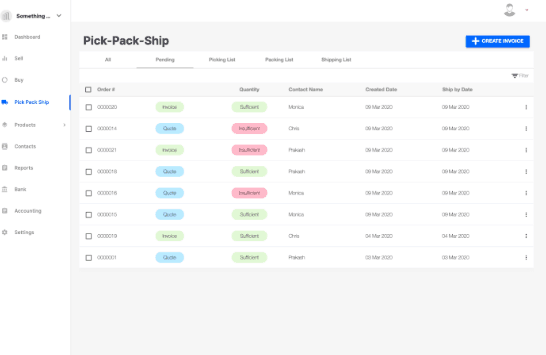 Warehouse Management System
Prevent Inventory Surprises And Unexpected Emergency Deliveries
With real-time data, Desk's cloud-based warehouse inventory system allows you to access essential information, from anywhere in the world. This facilitates your ability to plan ahead and perform accurate demand forecasting.
.

Use And Maximise Warehouses Efficiently
The reduction of waste and costs becomes all the more possible and effective with Deskera's warehouse management system.
Eliminate extraneous processes
Production and purchasing managers can improve product flows and better production planning by matching forecasts with lead-times and inventories.
Contacts Management
At any given moment, understand how your business is doing, ranging from the micro to global perspective. Having all the information at hand means that you can sell smarter and make wiser decisions with real-time data of your business' finance.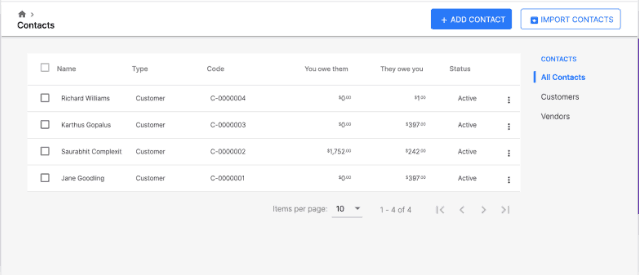 Understand Your Customers
Each contact which you establish in your business provides you with critical information. With DESK Cloud EPR Solution, get to analyse what type of customer they are, how much you owe them, how much is owed, and if they are active in your rolodex or not.
And Many More Functions
Desk CRM Solution
Manage your customers and establish your contacts
From customer engagement to a successful order for your business, DESK helps you Manage Deals, Contacts, and Activities with ease on an intuitive interface.
Get real time feedback
With the dashboard, it enables you to view the number of organizations you are working with at any one time, how many people you have in your system and how many deals you have won and lost.
Instant Bank Integration
Easy Connection
Connecting your bank account has never been more comprehensive and manageable! With over 500+ banks across 120+ countries, get started by choosing the option to connect from any transaction record.
Secure Authentication
We offer the highest standards for your privacy and security with PCI DSS compliance. Partnered with SaltEdge, DESK offers enterprise-grade authentication and connection.
Record Reconciliation
With access to your records, reconciliation becomes a breeze. Furthermore, you can manually reconcile any record with data filtering over a large range.
Contact Us
Please do not hesitate to contact SmartSelect at +65 8781 5000 or email us at cs@smartselect.biz for a training date for Deskera training or Deskera DESK Implementation or Pricing. If are you an overseas client (not in Singapore), we are also providing online training, click here for more information.
Contact Us
Having doubt or question on our services? Feel free to give us a call!!
Contact Us
Having doubt or question on our services? Feel free to send us a massage!!